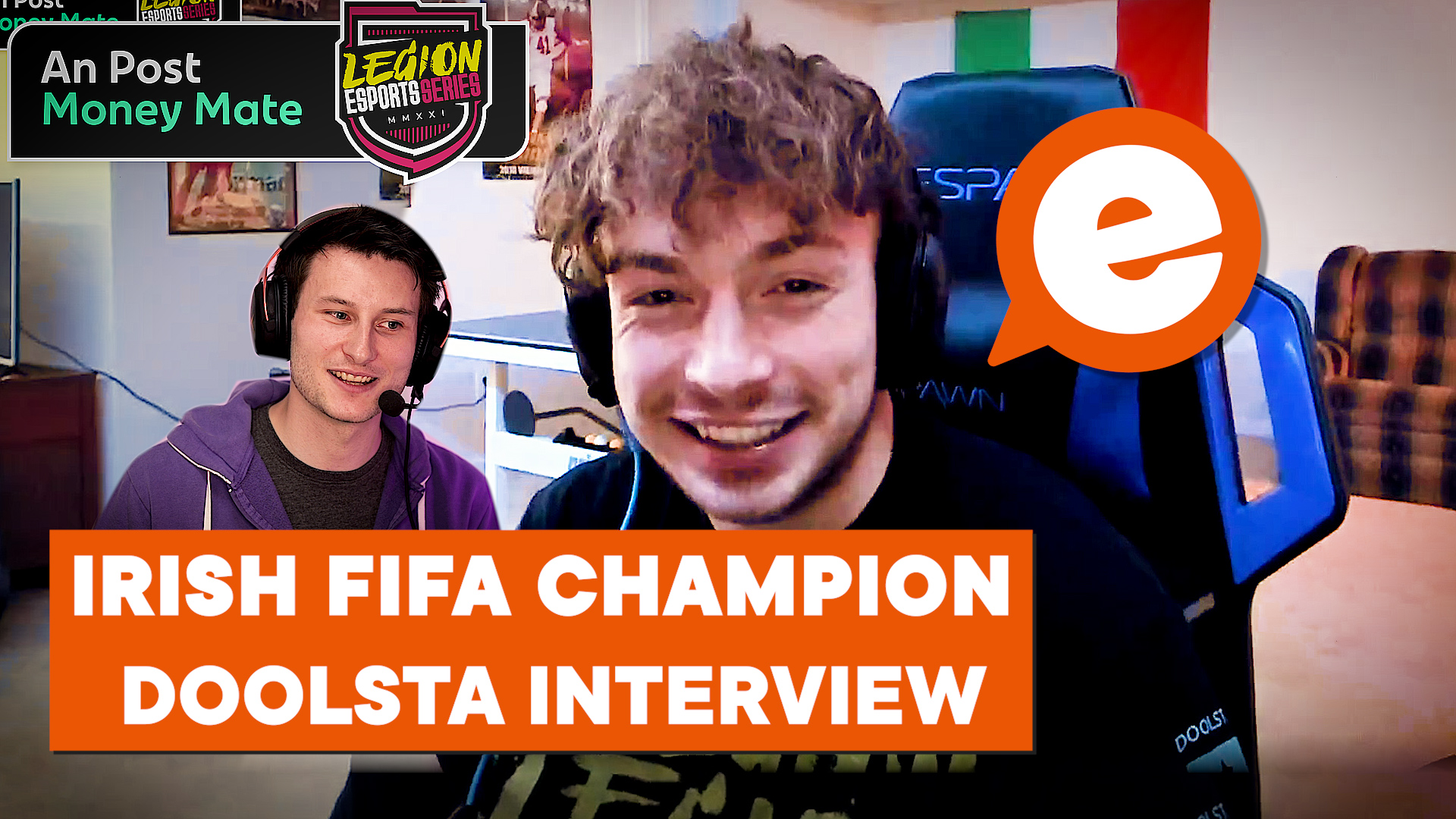 When it comes to audiences and communities, the gaming audience is one of the fastest-growing communities in the world. In line with this trend, gaming and esports have grown to become a core content pillar of entertainment.ie.
Consequently, a unique opportunity arose to align An Post Money with this very engaged gaming community when An Post Money Mate became an official partner of The Legion community, and title sponsor of The Legion esports FIFA Series.
Core worked with An Post Money to develop and launch the gaming partnership in promotion of the new An Post Money Mate service.
As part of this partnership, An Post Money Mate has owned all gaming content on entertainment.ie during the FIFA tournaments.
Important events of the tournament have streamed live on entertainment.ie, and video interviews with Irish esports stars have been curated and promoted. These include conversations with Cormac 'Doolsta' Dooley, a professional esports competitor, Chris Gara of 'The Gara Show', and Audrey, a Twitch streamer.
Extending the reach and alignment with gaming audiences for An Post Money Mate, Packed.House leveraged their shared ownership to further amplify the campaign on Wide Eye Outdoor DOOH screens at leisure locations popular with the broad spread of gaming audiences.
Ciaran Busby, who looks after Gaming and esports at Packed.House comments:
"We're tremendously proud to have partnered with An Post Money Mate and the Legion for our first significant gaming and esports brand campaign on entertainment.ie. The success of this partnership can be easily seen in the amazing data.

The figures show that we have reached over 280,000 gaming and esports readers on entertainment.ie, and have overachieved on video views KPIs by a factor of three across all touchpoints, amounting to a total of over 270 days worth of video watched."
Representing a family approach to money management, An Post Money Mate is a new account for 7 – 15-year-olds giving children a combination of financial freedom and responsibility. Its structure provides a degree of independence while at the same time enabling parents to retain control of spending.
Speaking about the Gaming partnership, Conor Barron, Digital Marketing and CRM Manager at An Post, said:
"At An Post, we are hugely excited to be involved with The Legion as the first Irish brand to enter a partnership of this size and scale with them.

We share a keen sense of community with gamers and the gaming industry, and we look forward to using this innovative and exciting medium to communicate with them both."
Colm Roche, Sponsorship Director – Talent & Esports with Core, added:
"Brand partnership in the Irish gaming market has been relatively underdeveloped until now, although not for lack of potential from a gaming perspective. In 2020, the Irish gaming market was an estimated €91 million, with 80% of Irish gamers playing every day."

"For An Post – a long-standing brand embedded in the Irish community – to partner with the gaming industry is a hugely significant moment. The partnership is one of the biggest gaming collaborations in Ireland, so for Core to be directly involved in making that happen is very exciting and rewarding."