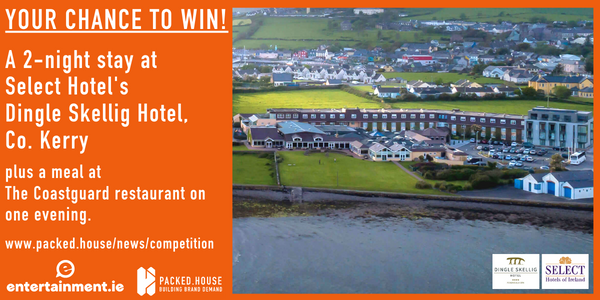 Be in with a chance of winning two nights away in beautiful Dingle, Co Kerry at a date that suits you over the next 10 months.
All you need to do is make sure you have signed up to the Packed.House and entertainment.ie B2B news database below. By doing so you'll hear from us about once a month with useful marketing information, interesting entertainment stories and opportunities to win great prizes.
But this chance to win is not for only you… We'd also like you to encourage your colleagues to sign up!
For every person that puts you down as the referrer, your name will go into the competition again and again.
Refer 10 colleagues and your name will be in the hat 11 times…
Likewise, if your colleague refers 5 colleagues their name goes in 6 times…
The more times you're in, the greater the chance to win!
Competition closes 10am on Friday 29th July 2022.
——————————————————————————-