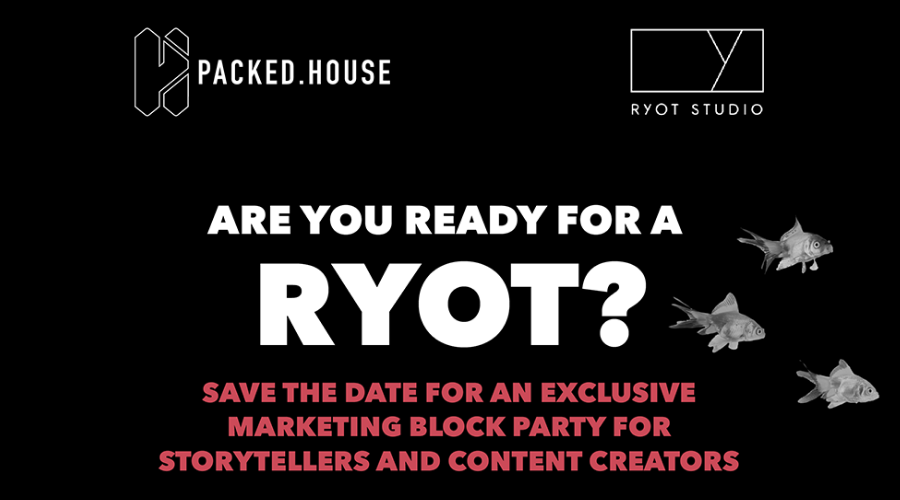 Packed.House in partnership with Verizon Media and RYOT Studio invite you to an immersive marketing session exclusively for storytellers and brand builders.
Join Mark Melling, Head of RYOT Studio EMEA and many more to explore the importance of contextual marketing, future of 5G for content creators, power of creative insights and much more.
When: April 10th, 2019
Where: ODEON POint Square, Level
Time: 4pm – 8pm
This is an invite only event, to find out more please email [email protected].
More about Mark Melling and RYOT Studio…
Mark leads the RYOT Studio team a division of the Oscar-nominated and Emmy-winning RYOT business within Verizon Media, across Verizon Media's EMEA markets. His team produce and distribute best-in-class branded content across the region and around the world.
RYOT Studio is focused on creating original, immersive content experiences that push the envelope through innovative formats. With roots in film making, documentaries, and live action, RYOT Studio puts the consumer at the centre of the story to connect audiences with issues that matter to them. Leveraging their seat at the intersection of technology, filmmaking and publishing, RYOT is extending their reach to help brands bring their stories to life through branded video content, 360, VR, and AR.